Accommodation
Our beachfront accommodation is anchored by our "spruced up" traditional cottage which sits in the shade of a 400 year old tamarind tree facing the seascape of Carlisle Bay.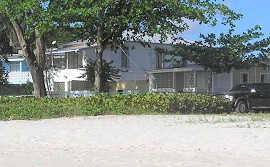 The other accommodation is a 3 bedroom 2 bathroom (Sea Mist Lower) ground floor unit and a 3 bedroom 1 bathroom (Sea Mist Upper) upstairs unit on the beachfront immediately next to Sunset Cottage. All units, which are self catering, are equipped with everything for your convenience. All bedrooms are air conditioned.
The Downstairs Flat/Apartment and the Upstairs Flat/Apartment), are spruced up like the cottage with everything you need for your stay.
Satellite TV (CNN, ESPN, BBC World, Fox News, Discovery, National Geographic, Cartoon Network, Various movie channels etc.)

WIFI
Kitchens with refrigerator
Stove
Microwave
Toaster
Coffeemaker
Iron and ironing board
Washing machine
Pots, pans, dishes, linen etc.
The beach front units have verandahs (porches) facing the sea and the beach is only 20 steps away. The waters edge is another 60 steps onward.
All of our units are self-catering (That means that you are responsible for all your supplies of food, drink, toiletries etc. however there will be bathroom tissue, hand soap, kitchen towel paper and dishwashing liquid to get you started when you arrive.)
We only allow smoking on the verandahs

Click on the links below for more information on the individual units: